In the cool paradise of Tagaytay, you will find the best places to get a view of the Taal Volcano, but inside its suburbs lies an even more beautiful paradise, the Paradizoo. Situated in the nearby town of Mendez some five minutes from the Tagaytay city proper, Paradizoo showcases the pleasant nature that we don't usually see here in Mega Manila.
At the entrance, I and my two homies were treated to a welcome drink, and as a way of saving the environment through cleanliness, they turned old mayo jars into glasses.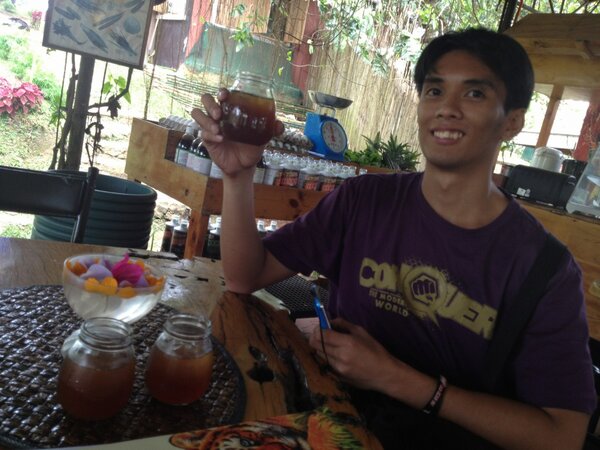 One for the road! -Grace Nicolas
Inside the welcoming area is a stuff toy store where you can buy one that you can give to your kids.
Then, the main attraction, the zoo's flora and fauna. The plants and the animals are well-taken care of, like the bees...
...and the butterflies.
Also, kids and adults alike can also learn how to milk goats and cows here. In fact, Paradizoo is also selling goat's milk products.
Inside Paradizoo is a special fishpond where you can pamper your feet while the fishes do the massage and rejuvenation of them. For just 60 bucks (for the fish food), drench your feet (or your arms if you want), feed the fishes, and let them take care of the rest.
For PHP 299 per person, you can enjoy Paradizoo. For those who plan of having an eco-trip at Paradizoo, feel free to call 09155618885.